I use my K40 with Roon exclusively. Is it possible to stream pandora through it using Squeeze or HQPlayer? Thanks.
Squeezebox Server, installed on the K40, has plugins for both Spotify and Pandora, as well as for Tidal and Qobuz. Only Tidal and Qobuz can be currently used with Roon.
Hello @Windyb.
I used to be able to use Pandora when I was using AMSv2 with my DX but haven't been able to figure out how to add it to the Material player in vs3.1. Pandora shows up as one of my apps at mySqueezebox.com. When I look at the settings for Pandora it shows 3 K50 accounts, with one of them listed as enabled, but have no idea how to access it in Material. Any thoughts?
Go to Server settings in Material, find the Plugins settings and enable Pandora.
Hi @Greg,
In Material click Settings/Library/Basic Settings, and then scroll down and click 'Plugins':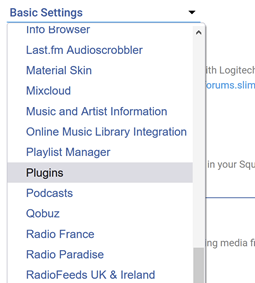 Then scroll through the list of plugins, including Inactive and 3rd. Party, to find the Pandora plugin:

Enable it, and then restart Squeezebox Server. Pandora should show under Apps.
Thanks @Windyb and @kennyb123. Unfortunately I couldn't get it to work. The Pandora plug in was already enabled. I disabled it, restarted then re enabled and restarted again and nada. I'm pretty sure I went down this path before on my own and when it didn't work I threw in the towel thinking I must have screwed something up or that Pandora was no longer available with LMS.