AMSv3.12 Upgrade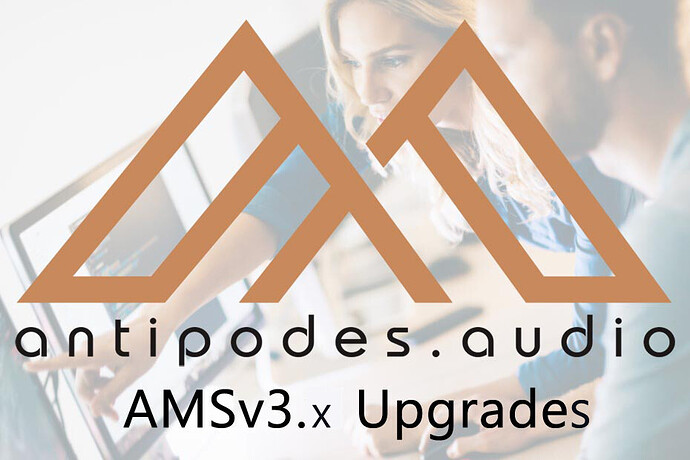 The software upgrade to v3.12 is now live.
If you are on v3.0 or later, leave your music server booted up (not in standby) and it will receive the upgrade tool at 3.30am tonight or tomorrow night, your time, depending on your location. When you open the GUI or Dashboard from My Antipodes, the upgrade tool will open and you have the choice to begin the upgrade or skip it to do it later.
If after a couple of days you have not yet got the update screen, get in touch with us.
Once you start the upgrade, ignore all messages on the screen until it specifically asks you to REBOOT. Because an individual step says it is complete, does not mean the upgrade is finished. Interrupting it before you are asked to reboot will likely corrupt the software on your music server. It is very important that you are patient with this process so that everything can be achieved automatically.
Reboot by shutting down via the front panel power button. And then restart the music server via the same button.
If you have missed some previous upgrades, then your upgrade may take a number of steps to complete. Simply reboot as described above and then open the dashboard again and you will be advised if there is another step to complete. After a multi-step upgrade your music server may need to be rebooted 3 or 4 times for it to re-configure itself fully.
Some steps may involve installation of a new kernel. In that case the boot up time may be long at around 3 or 4 minutes while drivers are being downloaded for the new kernel during the boot up.
If you have a dual computer model, such as a K50 or K30, or if you connect directly between two music servers, such as between a S40 and S30, then you must complete all of the upgrade steps on the one running the Server apps first, reboot, and then complete all of the upgrade steps on the one running the Player apps. Do not upgrade them both at the same time.
If your Antipodes music server is on an earlier release than v3.0 then please contact us for extra instructions about how to get up to date.
v3.12
Squeeze Remote Control
Some minor updates
Squeeze Player
A critical fix for a small number of users experiencing problems with Squeeze Server losing Squeeze Player. And a critical fix for users wanting to play very high bit-rate files.
Security
Some minor security enhancements
v3.11
Roon Native DSD
A bug prevented Native DSD enablement with Roon Server, and v3.11 fixes this.
Squeeze Player
A bug made it difficult for Squeeze Server to find Squeeze Player on the network, and v3.11 fixes this.
Internal Audio
The latest Operating System did not provide full support for some internal audio chips, which mainly affected Analog Outputs, and v3.11 fixes this.
My Antipodes
Some users experienced problems with finding their music servers on the My Antipodes page. We have enhanced the code for the My Antipodes page to work with a wider variety of home network setups to address this.
Third-Party App Updates
The v3.11 upgrade will update your applications to the latest versions that have passed testing on our operating system.
SQUEEZE Remote Control
AMSv3.11 includes a new SQUEEZE Server skin, based on Material, focused on making the interface easier to use. Since SQUEEZE is, in our opinion, the best sounding software, we intend to continue to innovate with this skin to make it both simple and complete for most users' needs.
System Optimisation
Users wanting to optimise sound quality should leave their music server on. But this can result in memory issues over time. AMSv3.11 introduces regular memory optimisations to avoid any deterioration of performance, making it even more advisable to leave your music server on.
v3.1
The upgrade from 3.0 to 3.1 is a major update, requiring three steps, upgrading the kernel and several thousand files of updated code. Amongst a plethora of updates, it allows later versions of third party apps to be loaded, enables quick activation and de-activation of server apps to optimise performance, and provides a simpler user interface.